Stick With Western Washington's
#1 Consumer Rated Brand: Rhino Linings
Life in Western Washington is awesome — if you're dressed to weather the elements. Rhino Linings acts like a raincoat and a suit of armor to protect your trucks, RV's, decks and floors from the rain, snow, sleet and sun — foot traffic, heavy cargo and rough terrain too.
Since 1998, Rhino Linings of Auburn has helped loyal customers throughout Seattle/Tacoma to keep working, keep moving and keep doing what needs to get done.
Our Mission
 
We the Rhino Team of Auburn strive to provide our customers with the highest level of customer service and customer satisfaction. By specializing in proper and thorough prep work to achieve the highest standard of spray on protective coating. Our team takes extra precautions to secure the utmost bond, strength, and durability of the Rhino Linings products.
We value integrity, professionalism, teamwork and openness. We respect our customers, shareholders and business partners along with the environment.
We are here for you and we are Rhino Linings of Auburn.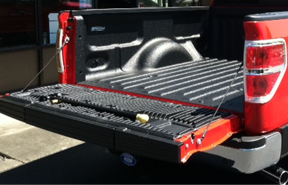 Rhino Linings is the #1 consumer rated spray-on truck bed liner brand, backed by the best warranty in the business. We spray truck beds with the same passion, precision and attention-to-detail as the world's finest custom auto body shops.
Protect your truck bed and panels from scratches, dings and corrosion

Protect your cargo from sliding

Protect yourself from slipping
Rhino Linings also sprays grilles, bumpers and rocker panels — we do undercoating and full body sprays too.
Fleets, RV's and Boats — if it moves, we have you covered.
If water can get to it, corrosion and mildew can set in below the surface and worse yet, people can slip and fall. Protect your property and the people who use it with non-toxic waterproofing services from Rhino Waterproofing.
House decks, patios, garages and basement floors
Commercial property lobbies, floors and parking structures
Industrial factory floors, tanks, pipes and walkways.
Auburn Rhino Linings can reseal or transform an old wood, stone or marble countertop with a smooth or textured overlay in a variety of colors and styles.
New countertops, overlays and sealant.
Residential, commercial and industrial.
About us
Got a truck?
Come on down. Schedule your appointment today.
Got a deck?
We'll come to you. Schedule your free, no-obligation inspection and estimate.
(253) 735-1961 • (800) 400-1585
Read more
Rhino Linings of Auburn
1521 15th St. NW #6
Auburn, WA 98001
Corner of Pike St. NW